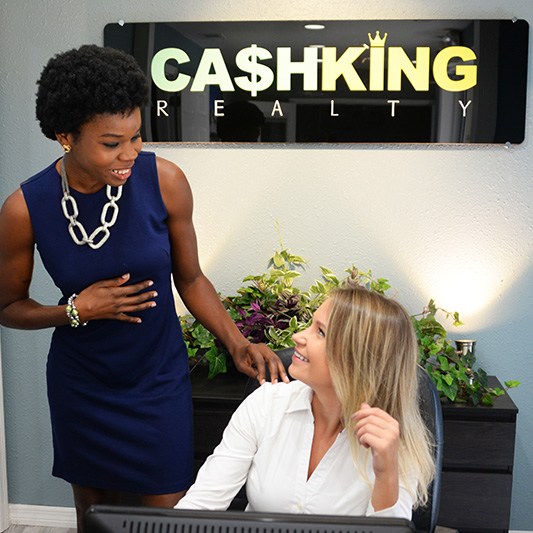 Here at Cash King Realty, we approach our licensees in a different way than other brokerages. Our licensees, instead of being independent contractors working for the highest commission they can get from any particular transaction, are all salaried employees of Cash King Realty Inc. We also don't accept real estate licensees that have been in the industry and refuse to adopt our systems and level of service. Most brokerages will take anyone with a license, and then send them off with little to no training into the field, hoping that they will either bring back a commission or wash out and just go away. Not here at Cash King Realty, we take the most promising licensees or even unlicensed individuals, and we train them to our standards and methods. If they don't have a license, we will get them one and then they are paired with an experienced Cash King mentor.
In the real estate industry, it has generally been a luck of the draw situation where you get an agent and then you stick with them. The vast majority of real estate clients hire the first agent they talk to, whether that's a friend or a random name on a real estate sign. Given the level of training in the industry, that means that customer has a good chance of their entire transaction being handled by a less than stellar agent. 
When you deal with Cash King Realty, we operate differently.
Instead of giving you an agent who will do his best to work your entire transaction, despite his strengths and weaknesses in various aspects of the process, we use our proprietary technology systems to always assign you the best and most efficient agent for your needs of the moment. When you request an agent, you'll be assigned the closest and most available agent that can effectively handle your needs right now. That means you're never in Tampa wanting to see a specific property, while your agent is in Orlando showing another property to someone else. Your agent is the always the closest agent to the property you need to see and who is most experienced in the type of property you want to see right now. Later in the day when you want to see another property, again you'll be routed to the most effective agent for that property, and every agent will be trained the same way to the same standards.
Once our team of agents has found your home, your offer and purchase contract will be prepared in-house by our highly experienced brokers and legal team. Once submitted, if there is negotiating to do, our experienced negotiators will handle the process, and when we finally have the best deal possible negotiated, the rest of the transaction will be handled by our transaction coordinators, finally culminating with you being accompanied to the closing table by one of our brokers.
When you are listing a home, again instead of getting a single one-size-fits-all agent, every step of your listing will be handled by a specialist in each aspect of the transaction. From preparing listing contracts in-house with our attorneys, to photographs and 3D tours by our professional photographers, showings by our salaried agents, and negotiations by our trained negotiators, every step will be handled to the highest standards and with the same professionalism dictated by our systems.